Recommend this on Google
Follow Us on Twitter
Find Us on Facebook
Athletic Facilities
Not all those who wander are lost. - J.R.R. Tolkien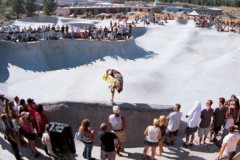 If the natural beauty and all of the inherent activities of the Mammoth Lakes area are not enough, then be sure to check out these added facilities available for your enjoyment and fitness. Don't worry, you'll never have to miss your daily workout!
Athletic Facilities
Snowcreek Athletic Club - 760-934-8511
A full service club including: gym, racquetball, tennis, weight room, cardiovascular equipment, indoor and outdoor pool, spas, steam room, dressing room, massage, personal training services, classes and childcare.
The Body Shop - 760-934-3700
Weight room, cardiovascular equipment, classes and personal training service.
Town of Mammoth Lakes - 760-934-8983
Softball, baseball and soccer fields, volleyball and tennis courts, Whitmore pool.
The Volcom Skate Park is located near the high school on Meridian Blvd., featuring bowls, cradle, ledges, rails and hips.