Recommend this on Google
Follow Us on Twitter
Find Us on Facebook
Golf Courses and Golfing
Golf is a good walk spoiled. - Mark Twain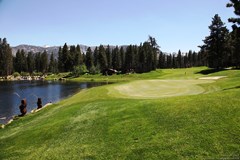 Mammoth Lakes offers a wide variety of golfing treasures in town and the surrounding communities. All are open to the public.
Snowcreek Golf Course, Mammoth's first course, is a regulation nine holes with wide open, breathtaking views of the Sherwin Mountains, Mammoth Rock and Mammoth Mountain. Fairway Drive, Mammoth Lakes. 760-934-6633
Another jewel of the Sierras is Mammoth's latest golfing experience -- the championship course at Sierra Star Golf Club. Challenging fairways, exceptional service and spectacular views await the most discriminating player. 2001 Sierra Star Parkway, Mammoth Lakes. 760-924-4653
And for those who don't mind a short drive for golfing year-round, you might want to try the Bishop Country Club (760-873-5828) or the Mt. Whitney Golf Course in Lone Pine (760-876-5795, semi-private).
Need help in booking your tee times? Just notify one of our friendly agents when making your Online Reservation. They will be happy to assist you.