Recommend this on Google
Follow Us on Twitter
Find Us on Facebook
Points of Interest
When nature has work to be done, she creates a genius to do it. - Ralph Waldo Emerson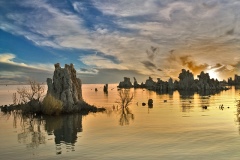 The Points of Interest in Mammoth Lakes and its surrounding area are plentiful and varied. From "Ghostly" Bodie State Historical Park to breathtaking Mono Lake to the majesty of Mammoth Mountain, area sights abound. Children and adults will be fascinated by the historic and environmental value of the Eastern High Sierras.
Bodie State Historical Park - This well-preserved ghost town is a highlight of any trip to the Eastern Sierras. Located about 60 minutes north of Mammoth and 13 miles east of Highway 395, the self-guided walking tour is worth the trip. Call for seasonal availability and day-use fees. 760-647-6445
Yosemite National Park - The "Queen of National Parks," this jewel of the Sierra is just 45 minutes north of Mammoth. Take Highway 395 to the Highway 120 turn off and continue west up Tioga Pass. At an elevation of 9,945 feet, this is Yosemite's heavenly gate. This is also California's highest vehicle pass. World-renowned scenery and unparalleled beauty await you at Tuolumne Meadows and along the westerly highway all the way into the Yosemite Valley of Half Dome and Bridle Veil Falls. 800-882-8238 / 209-372-0200
Mono Lake Visitor's Center - Mono County is very proud of this visitor center with its panoramic views of geologically unique and fascinating Mono Lake and basin, interactive exhibits, theater, gift shop and interpretive trail. Formed more than 700,000 years ago, awe-inspiring Mono Lake is one of the oldest lakes in North America. Ecologically sensitive and valuable, the Mono Lake Committee is a constant advocate for its preservation. 760-647-6595
Mono County Courthouse - Located in Bridgeport and built in 1880, this is the second oldest courthouse in California. Open daily during business hours.
Mono County Museum - Originally an old Bridgeport schoolhouse built in 1880 and used until 1964. Open Memorial Day through September 10, 10am to 5pm. www.mammothgallery.com
The Mono Craters - A group of volcanic cones south of Mono Lake make up the youngest mountain range in North America. Located a few miles north of Mammoth Lakes, these craters offer dramatic evidence of the volcanic activity that took place in the area as recent as 600 years ago. Open year-round weather permitting. Call for guided tours in the summer. 760-647-3044, 760-647-3000
Inyo Craters - These youngest of volcanic features in the area are evidence of activity which occurred 500 years ago. Small lakes rest about 100 feet below the edges of both craters. Just north of Mammoth Lakes of Highway 395.
Earthquake Fault - On the drive to Mammoth Mountain, this 50-foot split of hardened lava is believed by some scientists to be a cooling fissure; others theorize it was caused by movement associated with rise of the Sierra.
Devil's Postpile National Monument - Basalt columns rising 60 feet from the valley floor are an intriguing study of how lava cooled and the mass fractured vertically forming hundreds of three- to seven-sided columns. The trail continues to picturesque Rainbow Falls (taking its name from the spectrum of color hitting the fall's mist in midday sun.) Located just northeast of Mammoth in gorgeous Red's Meadow. Mandatory shuttle busses operate daily during summer from the Mammoth Mountain Inn. 760-934-2289
Hot Creek Geologic Site - Boiling hot springs, fumaroles and periodic geysers are found here. High concentrations of chemicals and scalding water make swimming risky and undesirable.
Hot Creek State Fish Hatchery - Twelve million trout eggs are produced annually, planting 2 million fingerlings and 500,000 catchable-size trout. Just south of Mammoth off Hwy. 395. Open daily 8am to 4:30pm. Call to arrange guided group tours. 760-934-2664
Laws Rail Road Museum and Historical Site - This was the northern terminal of the last narrow-gauge public carrier to operate west of the Rockies. On Highway 6 just north of Bishop. 760-873-5950
Mount Whitney - The highest mountain in the contiguous United States. About two hours south of Mammoth overlooking Lone Pine, hikers can make the 11-mile trek to the 14,496-foot summit along a strenuous trail beginning at Whitney Portal. Overnight hikers must apply for seasonal wilderness permits. 760-876-6200
Ancient Bristlecone Pine Forest - NE of Big Pine off SR 168. Visitor's Center open mid-June through mid-September. Located in the White Mountains, this forest realm is one of the world's oldest living things. Many of these trees are more than 4000 years old. A tree may grow only an inch in diameter every hundred years. Because much of the outer tree consists of dead wood, the older trees have been called "living driftwood." The moonlike terrain and majestic pines will captivate photographers. 760-873-2400
Manzanar - Just north of Lone Pine, this is the site of the first World War II Japanese-American Relocation Camp, which from 1942-1945 housed 10,000 Americans of Japanese ancestry. 760-878-2932