Recommend this on Google
Follow Us on Twitter
Find Us on Facebook
Shopping
Specialty shops, sporting goods, designer wear and more!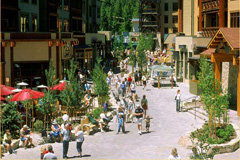 The Town of Mammoth Lakes offers a wide variety of shopping. From kid's stores to sporting goods to designer wear to furniture design studios. Don't forget the unique gift stores, specialty shops and beautiful galleries with resident and renown featured artists and photographers.
Browse through the alphabetically, categorized list below. As it is a cursory list, you may wish to consult with one of our friendly agents for further recommendations or information at 800-325-8415 or 760-934-8372. Or, e-mail us when making your Reservation. You may also wish to print a copy of the list for quick reference while on your trip to Mammoth.
Books
The Booky Joint - 760-934-4777
Clothing
Bass Shoe Outlet - 760-934-0264
Great Outdoor Clothing Co. - 760-934-0015
Outdoor Image/Patagonia - 760-934-7488
Van Heusen Outlet - 760-924-2038
Volcano Clothing Co. - 760-924-3776
Designer Goods
Coach Outlet - 760-934-6213
Polo/Ralph Lauren - 760-934-1656
Clothing
Sierra Design Studio - 760-934-4122
The Oak Tree - 760-934-3858
Ansel Adams Gallery - 760-647-6161
Clark Contemporary Gallery - 760-934-8160
Gathering Feathers Singing Leaves - 760-924-8040
Mammoth Gallery - 760-934-4911
Minaret Gallery - 760-934-3400
Upper Eastside Gallery - 760-924-0027
Wild Life Preserve - 760-924-0046
Groceries
Vons Supermarket - 760-934-4536
Mammoth Grocery Delivery - 760-475-0612
Hardware
The Do-It Center - 760-924-7112
Health Foods
Sierra Sundance Earth Foods - 760-934-8122
Office Supplies
Mammoth Business Essentials
Specialty
Graphic Conclusion - 760-934-2187
Heart In Hand - 760-924-2424
Michelle's Fine Jewelry/Gifts - 760-934-8400
Sierra Jewelers - 760-934-7272
Wild Life Preserve - 760-924-0046
Sporting Goods
Footloose Sports - 760-934-2400
Kittredge Sports - 760-934-7566
Mammoth Sporting Goods - 760-934-3239
Rick's Sports Center - 760-934-3416
Trout Fitter - 760-924-3676
The Trout Fly - 760-934-2517
Wave Rave Snowboard Shop - 760-934-3400
Upper Eastside Gallery - 760-924-0027
Wild Life Preserve - 760-924-0046
Shoes
Bass Shoe Outlet - 760-934-0264
Footloose Sports - 760-934-2471
Variety
Rite-Aid Pharmacy - 760-934-8561