Recommend this on Google
Follow Us on Twitter
Find Us on Facebook
Fishing in the Mammoth Area
I have laid aside business, and gone a'fishing. - Izaak Walton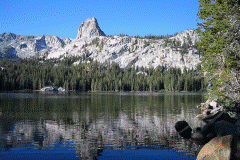 Meandering streams, secluded high country watering holes and large majestic lakes await visitors from all over the world. From the small child dipping a line for the first time to the seasoned veteran, there is an enjoyable fishing experience for everyone.
The famous Alpers Trout stocking program in the Mammoth Lakes Basin and many surrounding area lakes and streams attract fishing enthusiasts year after year!
Pick up area fishing guide maps at the Mammoth Lakes Visitor's Bureau and Inyo National Forest Visitor's Center on the right hand side of Highway 203 as you enter town.
More Info
Mammoth Lakes Visitor's Bureau - 760-934-2712
Inyo National Forest Mammoth Ranger Station - 760-924-5500, 760-924-5531 TDD for hearing impaired
Hot Creek Fish Hatchery - 760-934-2664
Once you're in Mammoth listen to the daily fishing reports on local radio spring through fall. Fishing licenses, recommendations and other information available at various tackle shops throughout Mammoth Lakes and the surrounding communities.