Recommend this on Google
Follow Us on Twitter
Find Us on Facebook
Skiing and Snowboarding
Ski and snowboard the best terrain on the West coast.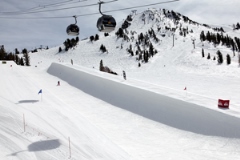 Offering 3,500 acres of amazing High Sierra terrain, Mammoth Mountain is the California ski experience that lives up to its name!
If you haven't been to Mammoth Mountain lately, you haven't been to Mammoth! With all the recent improvements, you're headed for a great skiing/snowboarding experience!
Don't forget to head this way for our area's notable cross country skiing. Whether on groomed trails or natural challenging terrain, Mammoth has it all!
Check out MammothMountain.com for up-to-date pricing information for all your skiing/snowboarding adventures.