Recommend this on Google
Follow Us on Twitter
Find Us on Facebook
Snowmobiling and Snowshoeing
Miles of trails and adventure for the whole family.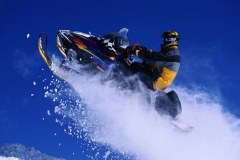 Vast, snow-laden expanses make Mammoth Lakes a great destination for snowmobiling and snowshoeing. Surrounded by nearly 2 million acres of one of America's largest national forests, we are indeed blessed with a Sierra treasure.
Be sure to pick up a Winter Recreation Map, available at the Mammoth Visitor's Center on Highway 203 as you enter town. Or call our office at 760-934-8372 or 800-325-8415 and ask one of our reservationists for assistance. You may also e-mail us when making your Online Reservations.
DJ's Snowmobile Adventures - 760-935-4480
Mammoth Snowmobile Adventures - 760-934-9645
Snowshoe rentals are available at various outdoor outfitters.