Recommend this on Google
Follow Us on Twitter
Find Us on Facebook
Mammoth Dining and Restaurants
There is no sincerer love than the love of food. - George Bernard Shaw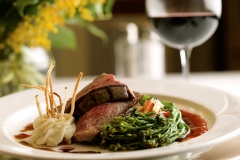 Mammoth Lakes is a hidden treasure in the Sierras when it comes to exquisite culinary experience and variety. Many locals and visitors alike return to our famous, critically acclaimed dining establishments. The comprehensive alphabetically categorized list below of everything from coffee to breakfast to fining dining includes those our staff and our guests recommend year after year!
Asian
Shogun - Traditional Japanese fair to satisfy the most discriminating palate. For the adventurous, there's sushi at it's finest! Enjoy their full bar with Karaoke every Tuesday, Saturday and holiday weekends. Panoramic mountain views. In the Sierra Center Mall. 760-934-3970
Bakeries
Paul Schat's Bakery - European hearth breads, bagels, pastries, cookies, muffins and cakes baked fresh daily. On Main Street. 760-934-6055
Von's Bakery - Pastries, tortes, pies, cookies, bagels, assorted fresh breads and rolls, and specialty cakes. In the Minaret Mall, Old Mammoth Road. 760-934-4536
Breakfast, Soups and Sandwiches
The Breakfast Club - A favorite of locals and visitors since 1986. On Main street by Shell Mart. Great full size breakfasts! Extensive menu plus pastries and cakes, too! 760-934-6944
The Stove - A Mammoth tradition known for generous portions and great service. Located on Old Mammoth at Chateau Road. 760-934-2821
Nik-n-Willies -Great selection of sandwiches and salads. Take out or dine in. On Old Mammoth at Tavern Road. 760-934-3463, 934-2012 for take out orders.
>Base Camp Cafe - Great soups and sandwiches. Take out or dine in. On Main Street across from the Post Office. 760-934-3900
Good Life Café - Prides itself on healthful breakfasts and lunches. Extensive menu. Indoor and outdoor dining. Located in the Mammoth Mall on Old Mammoth Road behind the Chart House. 760-934-1734
Coffee Houses
The Looney Bean - Located on Main Street this local's hangout roasts their coffee beans right on site! Indoor and outdoor seating as well as "goodies" available. 760-934-1345
Family Dining
Angel's - From ribs to pot pies to famous salads, this is always a great family choice. They have something for everyone! Great views offered in a warm, rustic atmosphere. Full bar. Located on the north side of Main Street just a block up from the Post Office. 760-934-7427
Bergers Restaurant - A must stop for every visitor and one of the local's favorites for many years. They serve generous portions of food including hearty burgers, brisket, and stew. Try their famous Buffalo burgers. Beer and wine available. On Minaret Road across from the Village. 760-934-6622
The Stove - A traditional Mammoth favorite. Generous portions, children's menu, and great service make it a fabulous choice. Located on Old Mammoth at Chateau Road. 760-934-2821
Fine Dining
Nevados - Eclectic Euro-California cuisine finely prepared and beautifully presented. Enjoy the chic atmosphere and great service. Full bar. Try the Seared Ahi - it's to die for! On the north side of Main Street at Minaret Road. 760-934-4466
Skadi - The freshest, gourmet edibles with a Scandinavian flair. Fine service and exquisitely presented cuisine, compliment this elegant, intimate restaurant with full bar that captures unparalleled views, spring, summer and fall. Located at 587 Old Mammoth Road. 760-934-3902
The Mono Inn - This elegant restaurant is beautifully decorated in Mission Style. It enjoys spectacular views of Mono Lake. Try to catch the full moon! May through December experience the Ansel Adams Gallery. Located on Highway 395, 4 miles north of Lee Vining. It's worth the trip! 760-647-6581
The Restaurant at Convict Lake - Mammoth's only Four-Diamond restaurant three years running. Continental cuisine with a French flair. Fully stocked bar and extensive wine list. Just a few minutes south of Mammoth and 1.5 miles up Convict Canyon. 760-934-3803
The Lakefront - Exquisite French-California cuisine in an intimate mountain setting. Located in the historic Tamarack Lodge on Twin Lakes in the beautiful Mammoth Lakes Basin. 760-934-3534
Whiskey Creek - An exceptional Mammoth tradition for many years. A varied menu offered in a contemporary setting. Also includes a full bar with entertainment. Check out Mammoth Brewing Company's selection of fine locally brewed beers. At the corner of Main Street and Minaret Road. 760-934-2555
Italian Cuisine
Giovanni's Restaurant and Bar - Voted "Best Pizza," this is the local's and visitor's choice! Gourmet pizza, pasta and salad bar. Beer, wine and sports TV in the bar. Located in the Minaret Mall near the Minaret Cinemas. Dine in, delivery, take-n-bake and take out available. 760-934-7563
Perry's Italian Café - Open for breakfast, lunch and dinner with full Italian dining with bar, pizza, and patio dining in summer. Don't miss their large salad bar. Located in the Village Center Mall on Main Street. 760-934-6521
Bear Creek Pizza Den - In the Village, 6201 Minaret Road. 760-924-7700
Domino's Pizza - 1934 Meridian Blvd. 760-934-5555
Campo Mammoth - In the Village, 6201 Minaret Road, Suite 2140. 760-934-0669
Mexican Food
Roberto's Mexican Café - Fine Mexican dining the local's love. Enjoy great margarita's and cervesa's while you wait. It's worth it! Located at the corner of Old Mammoth and Sierra Nevada Road. 760-934-3667
Gomez's Mexican Restaurant - Delicious food prepared from old family recipes. Dine in or take out. Located in the Village. 760-924-2693
Sports Bars
Grumpy's Sports Restaurant - Over 20 TV's, arcade and pool tables. Family dining too! Full bar and great views. Located on Old Mammoth Road near the intersection of Meridian Boulevard. 760-934-8587
Giovanni's Restaurant and Bar - Voted "Best Pizza," this is the local's and visitor's choice! Gourmet pizza, pasta and salad bar. Beer, wine and sports TV in the bar. Located in the Minaret Mall near the Minaret Cinemas. Dine in, delivery, take-n-bake and take out available. 760-934-7563
Steaks and Seafood
The Mogul Restaurant - Voted "Best Steak" every year since 1987. Sit back and enjoy your entrée being grilled by your server right before your eyes. This unique, intimate mountain ambiance is just what you need after a long day on the slopes or a mountain hike in summer. Early bird specials, great food, the best salad bar in town and a full bar make The Mogul your number one choice! Located one half block west of Old Mammoth on Tavern Road. 760-934-3039
Chart House - Renown for great steak and seafood, this well-known chain restaurant lives up to its reputation here in its mountain setting. One of the largest salad bars around. Nice full bar with sand fire pit for relaxing before or after your dining experience. Located on the corner of Old Mammoth and Tavern Road. 760-934-4526
Slocums - Since 1983, Mammoth's only turn of the century classic steakhouse. Great selection of entrees, salads, appetizers and desserts. Visit their "Cheers Bar." You can't miss it's distinctive green and white exterior on Main Street. 760-934-7647